06-07-2015, 11:17
MyPornForum
MPF Administrator


Posts: 964
Joined: Jan 2012
Anna Darling of London
Anna Darling of London
"Nice ending to a good punt"
"Anna is one of those escorts that enjoys the social side of being an escort. She loves to chat and get to know her clients before moving on to the naughtier side of things. If you enjoy getting to know an escort well and taking your time on a booking she is the perfect choice. The fact she is well-spoken and can hold a conversation also makes her an ideal choice for dinner dates or overnights."...
ANNA DARLING'S ESCORT REPORT
06-07-2015, 11:32
MyPornForum
MPF Administrator


Posts: 964
Joined: Jan 2012
RE: Anna Darling of London
Anna Darling Escort Video
Courtesan Anna Darling is entertaining a client, dressing in a little black dress and pantyhose, her punter lifts her dress and feels her smooth little arse through her nylons. they both strip naked and explore each others bodies, Anna's a slim yet curvy figure, numerous tattoos adorn her frame, her small titties are a perfect match and offer an adequate handful as her customer finds out as she strokes his hard cock, her hand wrapped around his girth she spells up and down his dick, his foreskin retract and peel back exposing his wet red bell end. Anna then gets on all-fours on the punters leopard-print bedding and sucks him off, a service she offers with out a condom (OWO), she continues to suck on him while his hands and fingers discover her landing-strip shaven pussy. once he's protected with a condom she then start to take his penetration bents over, what a sight it is watching Anna taking cock as a whore, she looks a real PAWG with her big curvy arse, she then gets on her back and takes dick deep inside her, listen to her really enjoying being a prostitute for her real punter and the fact that the punt is filmed and going to be shown all over the internet on escort porn sites adds an extra thrill to been a real slut.
Annad.wmv
(Size: 9.79 MB / Downloads: 571)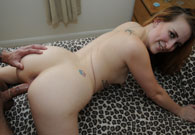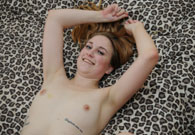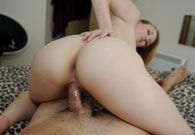 DOWNLOAD FULL-LENGTH VIDEO